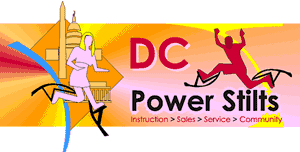 December 2011 - Happy Holidays!
> Sign up to get the newsletter via email
Happy holidays from DC Power Stilts!

We give thanks for your support of the powerbocking community, and for being a part of DC Power Stilts.
It is not too late to be a gift-giving hero!
You can put an awesome big-box gift under the tree whether you are buying sleek set of Poweriser Kids for kids or getting Poweriser Advanced for your teen or kid-at-heart.
Time is running out!
Complete your Poweriser order by Thursday and you can take advantage of our ground shipping rates to anywhere in the Continental US, with arrival by the 25th.
We also offer expedited shipping services if needed overnight or in 2-days. Or pay no shipping! Our DC Headquarters is fully stocked with a pair of stilts in every size and you can load them up right into your sleigh.
> Contact us to schedule a pickup
New Lesson Formats:
We still offer 10 Minute Tryout Lessons and Private lessons. Due to customer demand, we have formalized our special event format to make it easier to get your friends a chance to go stilt walking. Lessons make a great gift too!

PowerStrider closes its USA warehouse
DC Power Stilts is brand-independant! We share what we know about the current trends regarding equipment. We'll test and evaluate new brands and only endorse items that would offer solid quality for a good value. We'll let you know when we endorse a product and offer you the best of what is available.
Stay tuned, you'll be the first to know when a product meets our standards!
5-Star Service:
Customers love us, and we strive to provide consistent 5-star service! Our goal is to offer quality goods at fair prices and upfront shipping rates to anywhere in the continental USA. We also offer free customer pickup.
> Unfiltered Feedback (let DC Power Stilts try to earn your 5 stars too.)
> DC Power Stilts Web Shop
Want to organize powerbocking meet-ups?
> We'll help! Become a DC Power Stilts Affiliate