This time of year offers many, crisp cool days for outdoor fun and exercise without sweating too much, it's also the season of goodwill and generosity. Share the gift of a higher perspective!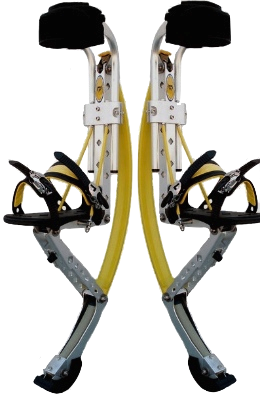 Announcing the 7s Stilts!
DC Power Stilts has noticed that
7MeilenStiefel
(7 League Boots) are the preferred brand for serious bockers in Europe. After putting them through the test, we found that these are the highest-quality jumping stilt in production, which is why we are now offering them to our customers in the USA!
The 7s stilts offer many innovations and are perfectly suited for the teen or adult who wants a highly adjustable, high quality product at great value.
>
What makes 7 League Stilts GT Cobra so great?
Thank You
We haven't thanked our stilts community enough for supporting DC Power Stilts so we are offering this deep discount to help you find out about this new product:
BLACK FRIDAY COUPON
Take $70 off each pair of 7s Stilts with the coupon:

OhThank7



You can use this coupon right now! You don't have to wait, or wake up early, or wait in line. This coupon is good until Dec 1, 2012.
Be a Gift-Giving Hero
Stilts come in a big box, which looks great wrapped under a tree, and there's no better feeling than watching someone receive an awesome gift. On the other hand, who is more deserving of awesome gift than yourself?
Lets Move for Youth Fitness!
Poweriser Kids Stilts
are an awesome way to get kids moving and having fun. Moving faster and standing taller is a huge incentive to get kids outside and doing something easy and safe to use. A perfect gift, still just $195. (for kids 66-110 lbs, ≈ ages 8-12)
5-Star Service:
Customers love us, and we strive to provide consistent 5-star service! Our goal is to offer quality goods at fair prices and upfront shipping rates to anywhere in the continental USA. Pay no shipping fee when you pick your order up.
>
Unfiltered Feedback
(let DC Power Stilts try to earn your 5 stars too.)
>
DC Power Stilts Web Shop