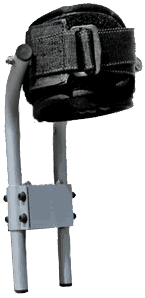 A customer recently
ordered the upgrade kit
for his 7 League boots to put on the Poweriser calf cuffs.
Hey. Would just like to say thanks for the cuffs. I also noticed that you added the bolts on there too, thanks for that ;D, really shows you care about your customers... I'm sure it will work out. Thanks again, hope to do business with you again.
Bravo for happy customers!! He's agreed to put together a tutorial on how to do the upgrade, so I'll post that on my website soon. Apparently it was pretty easy.